V/Line A class Diesel Electric Locomotives
Having entered service during the early fifties, as the B class, V/Line decided during the mid 80's to rebuild the B class into a high speed passenger locomotive for use on intercity passenger trains and fast freights. With the introduction of the N class diesel locomotives during 1985, the rebuilding of the B class ended, in favour of the brand new N class units. As a result only 11 of the B class units were re-built.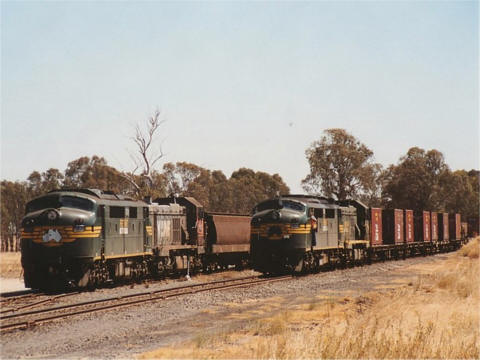 An FA liveried A class unit in company with a V/line liveried P class unit on the loop at Tocumwal with a grain train, whilst another A (in FV livery) and a P work past with the Tocumwal container train.
photo courtesy of Trevor Staats
Original owner: Victorian Railways
Entered service: 1983
Number series: A60,62,66,70,71,73,77-79,81,85
Builder: Clyde engineering, Rosewater
Gauge: Broad (5"3'), Standard (4'8 1/2")
Wheel arrangement: Co-Co
Engine: EMD 12-645E3B
Power output: 1846 kW
Tractive effort: 212kN
Max. Speed: 133kmp/h
Length (over couplers):18.5m
Weight: 118t
In service: 11