Victorian Railways B class Diesel Electric Locomotives
Half of this class have been converted to the higher powered A class units, they are generally still in service with Freight Australia and V/Line Passenger. West Coast Railway still operate three units on the broad gauge line between Warrnambool and Melbourne, with one unit - B80 on standard gauge in "murraylander" livery.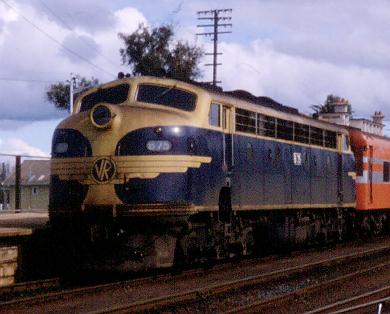 B75 waits with a train of "teacup" liveried passenger cars at Shepparton with a Melbourne bound passenger on 3rd Sept 1983
Photo courtesy Chris Stratton
Original Owner: Victorian Railways
Current Owner: West Coast Railway, various preservation societies
Entered service: 1952
Builder: Clyde engineering
Gauge: All on broad gauge (5'3"), with exception of B80, which is on standard gauge (4' 8 1/2")
Engine: EMD16-567BC
Power output: 1200kW
Tractive effort: 178kN
Max. speed:133kmp/h
Number series: B60 Harold W Clapp - B85
In service: 4
Preserved: B63, B67, B68, B72, B74, B83
Conversions:
B60 Harold W Clapp - A60
B62-A62
B66-A66
B70-A70
B71-A71
B73-A73
B77-A77
B78-A78
B79-A79
B81-A81
B85-A85
B80 suffered a graffiti attack on Wednesday 8th January 2003 whilst Stabled in holding road #4 at Pacific National Islington, South Australia.