VICTORIAN RAILWAYS R CLASS 4-6-4 HUDSON EXPRESS PASSENGER LOCOMOTIVE
This class of engine, was probably one of the countries most successful locomotive designs, however it was certainly a case of the right locomotive at the wrong time, as the Victorian railways were already beginning to phase diesel locomotives into service by the time this class of engine had entered service. R711 was removed from a park opposite Bendigo station in 1995, before being fully re-built and re-entering service in 1998. R711 is now the most modern steam locomotive in Australia, and hauls Australia's only regularly operated steam hauled train - The West Coaster, between Melbourne and Warrnambool each Saturday during the cooler months, and the monthly enthusiasts trip to Echuca, on the mighty Murray River. R711 is fitted with lempur exhausts, and has been converted to a full oil burner. R700 is currently being restored to original coal-burning status as she was when she entered service during the 1950's. R766 was converted to 'super R' configuration, to operate with R2711, but has since been withdrawn from service, due to major mechanical problems.
Thanks to Paul Dalton for his help regarding the rebuilds of R711 and R766.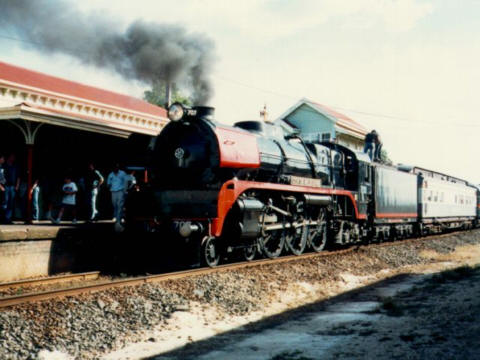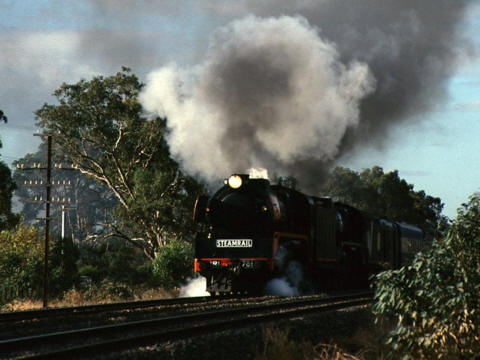 (L)R707 'City of Melbourne' Stands at Ballan on a ARHS tour during 1992.

(R) Steamrail's R761 and West Coast Railways R2711 team up as they pound out of Euroa in Easter 2000.

Both Photo's courtesy Trevor Staats.

Original Owner: Victorian Railways

Current Owner: 707 operations, Steamrail Victoria, West Coast Railway

Introduced: 1951

Builder: Nth British Locomotive Co.

Max. Speed: 70mp/h

Cylinder size: 21 1/2" x 28"

Grate area: 42

feet2

Axle load: 19.6t

Weight: 168.6t

Length (Over couplers): 77' 8"

Gauge: Broad (5' 3")

No. Series: R700 - R769

In regular service: 1 (R711)

Preserved:

R700 - Steamrail Victoria -Under restoration to original coal-burning status, using tender from R766

R707 - 707 Operations

R703 - Steamrail Victoria

R761 - Steamrail Victoria

R2766 - West Coast Railway Out of Service due to mechanical problems

R2711 - West Coast Railway