620 class 4-6-2 express passenger locomotive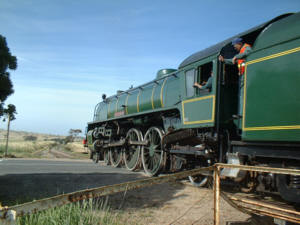 621 working downgrade nearing Currency Creek. Photo N.Michalak
Original owner: South Australian Railways
Introduced: 1936
Length: 69ft 7 3/4 in
Boiler Pressure: 200lb/sq in
Tractive Effort: 25,000lb
Cylinders: 18 1/2in x 28in
Axle Load: 15 tons 18 cwt
Weight: 140 tons 15 cwt
Water capacity: 5,200 gallons
Driving Wheel diameter: 5ft 6 in
Preserved:
621 Duke of Edinburgh - Steamranger - Mt. Barker. Re-commissioning in May 2002
624 - NRM
In service....
The 620 class was designed as an express passenger engine, which would be able to operate over lines which the Rx class were too small to handle, and the 500 and 700 classes were too large and heavy to work. The 620 class was small when compared with the 500 and 700 classes in SA, and the larger locomotives running interstate, but many consider them to be the most successful locomotive design to roam the South Australian rails.
The 620 class were at home on the fast East-West express, between Adelaide and Port Pirie, where they could easily manage 450tons at 93kmp/h, although they were permitted at operate at 112kmp/h between Port Pirie Junction and Redhill. In 1938, the crews complained about smoke beating down on the cab, reducing visibility. Thus the S.A.R. fitted various smoke deflectors to the class members for testing between 1938 and 1941. Eventually it was decided that the type fitted to locomotive 622 would be used for the rest of the class, and as members of the class came in for overhaul, they were fitted with the new smoke deflectors, 621 being the last to be fitted with such smoke deflectors on 11th November 1948.
621 ran 1,082,789km's in revenue service, before being condemned on the 21st August 1969. 621 was first used on an Australian Railway Historical Society, SA Div. train to Moonta and Gladstone on the 5th May 1962. It also operated other ARHS trains to Terowie in 1963 and the Barossa Valley in Feb 1965. 621 hauled the very last broad gauge passenger train into the old Port Pirie Ellen Street station on the 22nd July 1967, where she was met by BHAS narrow gauge loco "Port Pirie" and S.A.R. Beyer-Garratt 409.
The end of the line..... and the ARHS
The end came for 621, when after more than 30 years in active service, she began to fail regularly in service, and hydro tests showed her boiler was coming to the end of its life. In 1968 s decision was made to store the loco pending its scrapping at Islington workshops. The ARHS then stepped forward, and saved the loco from the scrap line, After 4 years out of service, 621 was restored to operating condition, and was re-commissioned on the 6th April 1971 at a small gathering of invited guests at Islington workshops. At this same event, the locomotive was named "Duke on Edinburgh" and the governor of South Australia, read the following for the Duke.
"Steam locomotives were the basis of the immense development of rail transport all over the world. This is an important chapter in modern history, and future generations will surely be grateful to the Australian Railway Historical Society for their foresight and initiative in preserving locomotive 621. I am honored that it should be named after me. Phillip"
Special Events
During the many years 621 spent based in Adelaide with the ARHS, 621 operated several special trips with other famous locomotives. 621 Parallel ran with 3801 in 1988, during her bi-centennial tour between Adelaide and Salisbury (until the standard gauge leaves the Broad gauge trackage). 621 also worked alongside the most famous steam locomotive in the world - 4472 The Flying Scotsman. I lucky enough to see both of these locomotives going through their paces at Parafield, during 4472's visit to Adelaide in 1989.
With the newly formed National Rail, preparing to gauge convert the Adelaide-Melbourne corridor, steamranger and steamrail victoria, began plans to work a South Australian steam loco into Victoria. Due to South Australia having a wider loading gauge than Victoria, the furthest south 621 could operate would be Bacchus Marsh.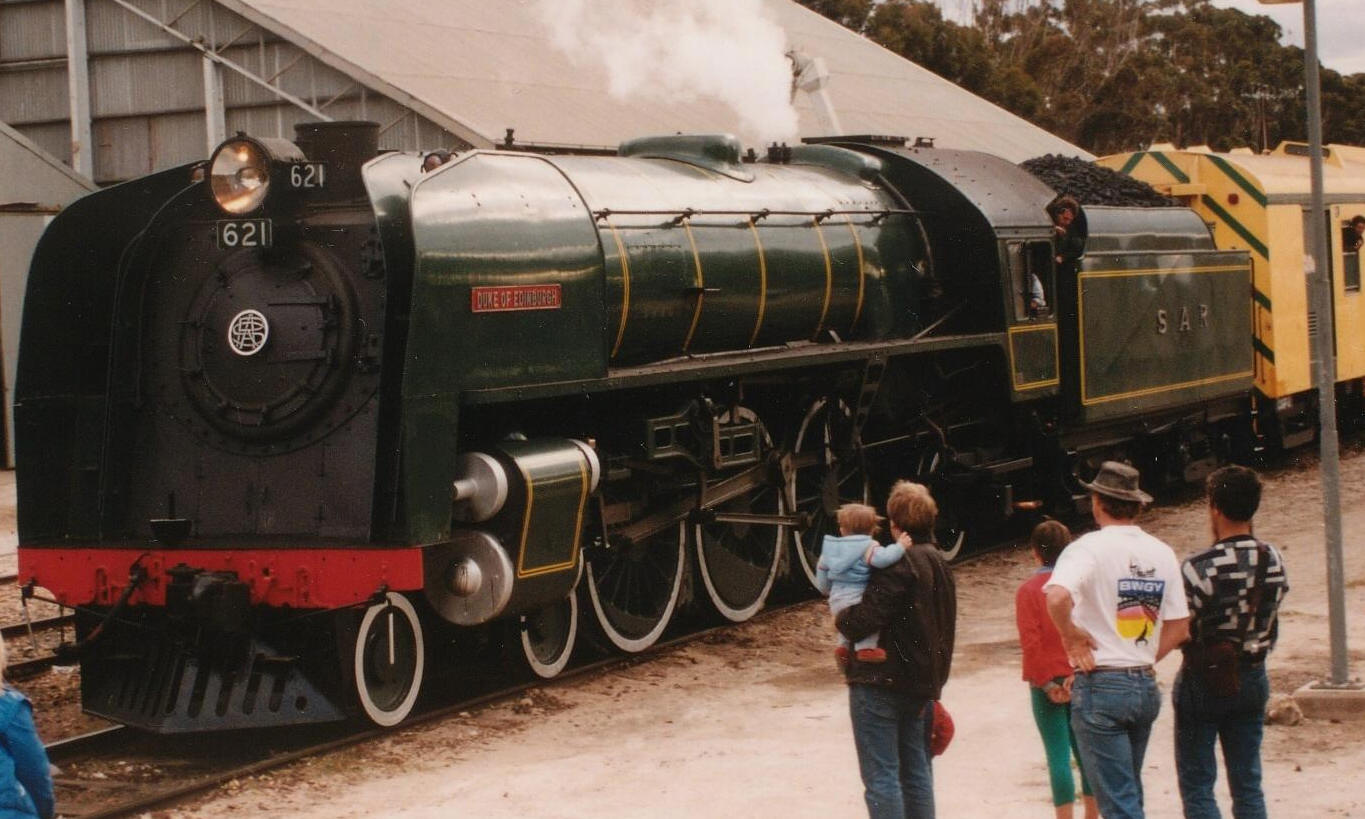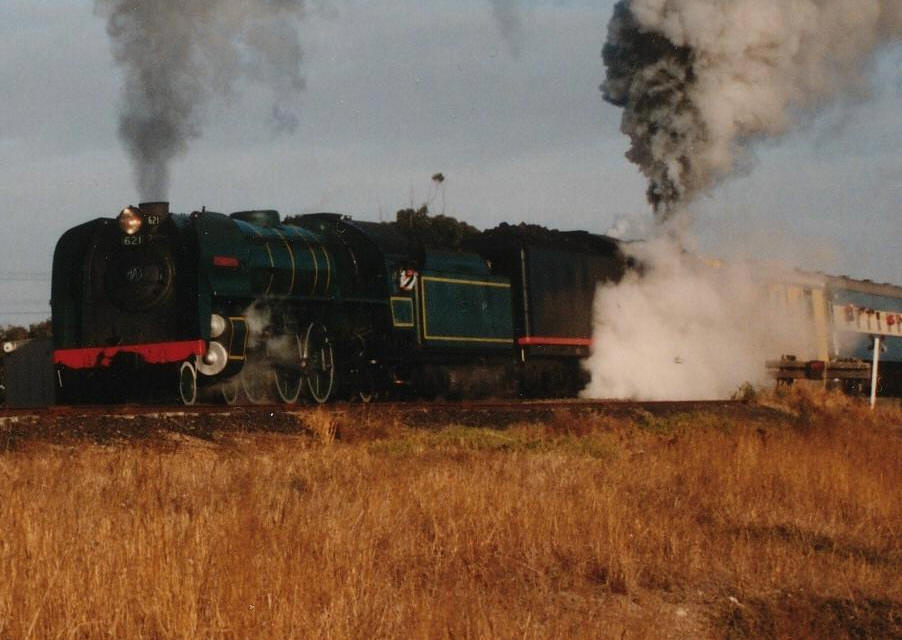 Left: 621 has just arrived at Wolseley, before combining with the Streamrail train.
Right: It's early morning and 621 and R761, work heavily upgrade between Nhill and Dimboola.
Photo's courtesy Terry Hughes
On the 13th May 1994, the dream of many rail enthusiast from both sides of the border came true, when 621 steamed out of Adelaide bound for Victoria. Having arrived in Wolseley, R761 joined the train, and ran with the 'foreign' visitor to Nhill. Having been stabled overnight, 621 then ran to Ballarat with R761 on the 14th. 621 and R761, finally reaching its southern terminus - Bacchus Marsh on the 15th may. Also on the 15th may, 621 joined another Victorian locomotive - K183 for a shuttle run between Ararat and Great Western (Now Great Western Loop on SG). 621 then returned solo back to Dry Creek on the 16th May.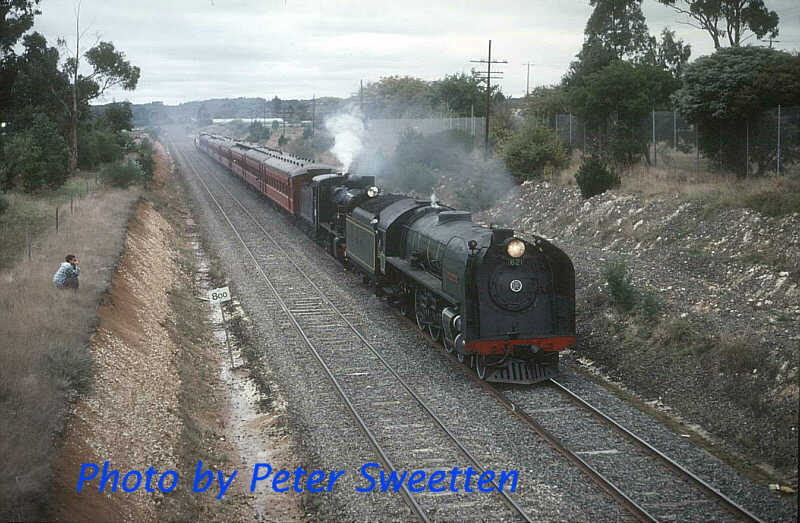 621 works downgrade from Ballarat East with K183.
Photo Courtesy Peter Sweetman
Yet another set back...
In late 1994, 621 suffered a major mechanical failure, and following its last run to Victor Harbour with 520, she had her super heater elements removed. Having been hauled to Mt. Barker behind Alco 958, along with 520, Rx207, Rx224, 351 and 507, she was stored until 2000, when work began on manufacturing a new super heater, with the support of Mitsubishi Motors and McKechnie Iron Foundry. The loco finally returning to service to haul the last Southern Encounter of the year in 2001.
Brief Return to Service, November 2001 - From a first hand perspective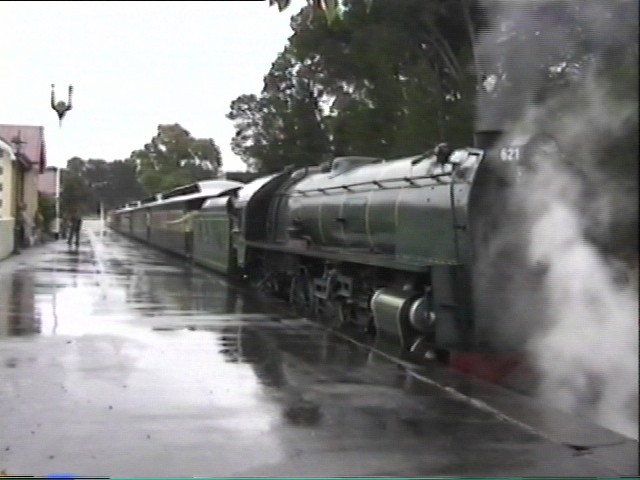 621 departs Mt. Barker in the rain on her first trip

I was fortunate enough to be onboard, and enjoy the sights and sounds of 621 as she climbed upgrade through the Southern Mt. Lofty ranges, with 5 centenary cars, an end loading buffet and ex. SAR/VR sleeping car Finniss.

The day dawned moist, and wintry for a November morning. Exactly seven years since she last steamed on the Southern Encounter, 621 was back. I arrived simply to photograph her going through her paces, but soon landed a seat onboard her first public trip back in service. As time drew near, my younger brother commented on her unusual beat as she stood in the platform, having only ever traveled behind 520 and Steamranger's two other small steam loco's F251 and Rx207. With a long triumphant blast of her whistle, we moved out of the platform, gathering speed through the outskirts of Mt. Barker. The rain poured down, but that did not dampen our spirits, as we got absolutely drenched as we hung our heads out of the car sides, as we slowly climbed the gradients to Philcox Hill, with a very heavy load. Having

reached the top of the ranges, we coasted downgrade toward Strathalbyn. The sun came out, perfect conditions for some video photography, bought some interesting shots (which I later converted to jpegs, which are displayed in this page). On arrival at Strathalbyn, we stopped for around five minutes, then off again we went, whistling loudly as we crossed historic High St.

It was now time to exhibit some of the high speed running the 620's were famous for, and it wasn't long before we were approaching Currency Creek, and Goolwa depot a few kilometres on. On arrival at Goolwa depot, 621 was uncoupled, where she reversed into the depot to collect another centenary car for use on the Victor-Goolwa Cockle train services during the day. Having coupled back onto the consist, we continued onto Goolwa, where we stopped for around 10 minutes. Soon we were moving, and on the last leg of the trip to Victor Harbour. Having passed through Middleton and Port Elliot, we arrived in Victor Harbour, where we completed our trip, to return to Adelaide by car.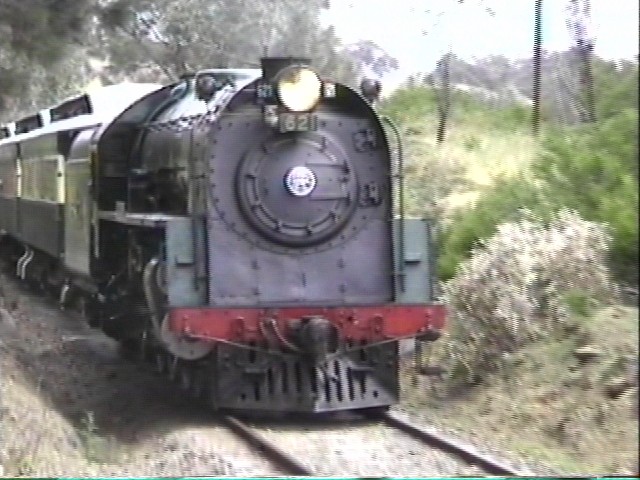 621 drifting down grade from Gemells
On the return trip, 621 was assisted, back to Mt.Barker by Alco 958. Over the summer months, 621 was again stripped down, to reveal further problems which were addressed to get the loco back into service by May 2002. At the end of May 2002, 621 was re-commissioned at a ceremony at Mt. Barker before many invited families of those who worked within the various organisations, who supported the restoration and manufacture of her new header, before heading a special train to Victor Harbour as a "thank you".
Looking back..from my point of view
When I look back, I had very little experience with this loco whilst she was running out of Adelaide (being only seven at the time of standardization), However the times I do remember, included going to Dry Creek with my Dad to watch her depart or arrive on a Southern Encounter.
Traveling behind her was also a great experience, especially from Adelaide, where we would motorcade the train from Dry Creek to Keswick, before boarding her for the tough assent of the Mount Lofty ranges. On the return trip, the lights being switched out in the train, as we steamed downgrade between Sleeps Hill and Eden Hills tunnel, with the lights of Adelaide stretching out below us like a carpet of Christmas lights. We would be on the Southern Encounter every June long weekend, and it was nearly every time, that 621 would be the power for the day. I remember standing on the end decks of the centenary cars with Dad, as we would pass through the tunnels, and the cry from the passengers "tunnel", meaning shut you windows or suffocate!!!! we would often come back into the carriage covered in soot. For me the best part of any of these trips, was hanging out of the train in platform two at Keswick, watching the overhead clock tick over to 9am, and the blast of 621's whistle and the sound of escaping air, as we slowly moved out of the platform and under the Anzac highway bridge.
Finally, I still have a vivid memory of running late to Dry Creek on one of our trips, and driving down Old Churchill road, and seeing 621 steaming directly in front of us across the Cormack road level crossing (the location of the current Standard gauge Dry Creek triangle) in the pouring rain....a sight I will never forget. I remember seeing the news on Channel 9, when the very last Southern Encounter ran, during November 1994, both 520 and 621 provided the power for the movement, being the first and last time a double headed steam service had run all the way from Victor Harbour to Keswick.
It certainly was great to see 621 back in service, and as I have already mentioned was lucky enough to be on her first trip back in service...hopefully she will be in service for many years to come. Perhaps one day again running with 520 on a Southern Encounter service....we can hope anyway........
Sources:
Pacific Power 621, ARHS SA.Div

Steamranger Enthusiast website - www.steamranger.org.au/enthusiast

50 years of the ARHS, ARHS SA Div.

The Overland Railway, W.H. Callaghan. ARHS NSW

Personal Notes