350 Class Diesel Locomotives
These two of a kind units, take claim to fame as the first mainland built and operated diesel locomotives in Australia. These two units mainly spent their lives shunting the Mile End diesel depot, Mile End freight yard, Adelaide yard and Islington workshops. Due to their low max speed, they were limited to shunting duties, however there are records that a 350 was used on Dry Creek passenger trains during times of coal shortages. The 351 was originally purchased by a group who wished to run tourist trains between Moonta and Walaroo, however this plan fell through, so SteamRanger (ARHS SA Div.) took up ownership, therefore preserving both 350 and 351. 351 worked many work trains over the VHTR, and mostly spent its life as shunter at Goolwa depot. Locomotive 350 spending its days as depot shunter at Dry Creek and later at Mount Barker. With SteamRangers acquisition of 507 and the failure of 351 saw it moved to the National Railway Museum as a static display, with the few usable parts of its engine stripped to keep 350 in service.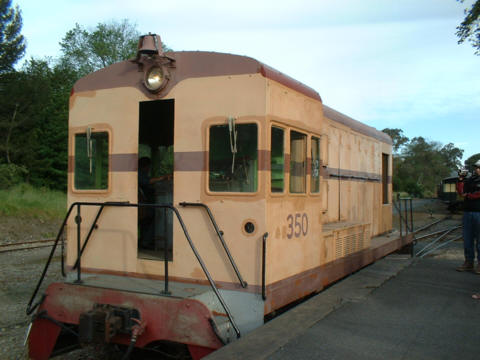 350 shunts centenary cars after the arrival of the Southern Encounter behind Pacific 621.
Introduced: 1949
Number in Class: 2
No. In Service: 0
Manufacturer: South Australian Railways Islington
Gauge: Broad
Wheel Arrangement: B0-B0
Max Speed: 28mp/h
Weight: 50t
Length (Over Coupler Faces): 5.44mtrs
Engine: English Electric - EE6KT
Traction Motors: English Electric - EE506D
Power output: 260kW
Tractive Effort:104kW
Sources: